With 85 galleries and a full five days of exhibitions and events, this year's 17th annual ArtPalmBeach is intended to make an even bigger mark on the South Florida cultural landscape than it has done in the past.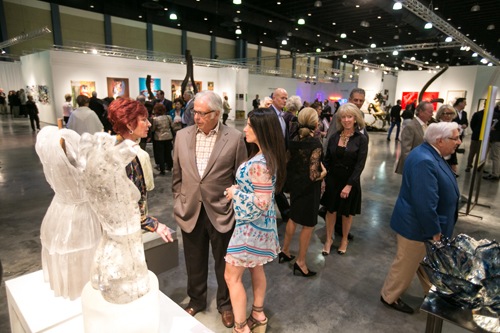 Opening tonight at the Palm Beach County Convention Center in West Palm Beach, the festival also includes six satellite art fairs: ART al'FRESCO at the Boynton Beach Arts District, Worth Avenue Gallery Walk, Continuum in West Palm Beach, ArtX in historic Northwood Village, the South Dixie Antique Row Galleries Walk and LULA's Art POP in Lake Worth.  Lee Ann Lester, who along with her husband David own ArtPalmBeach sponsor International Fine Art Expositions, said this winter's art season has kicked off with exciting news: "The Norton Museum's expansion, Art Synergy's inauguration and ArtPalmBeach's largest-ever fair has become a beacon of cultural growth  in  South Florida."
ArtPalmBeach will emphasize the international this year, organizers said, with artists from Egypt, Iran, Lebanon, Turkey and the United Arab Emirates, exploring the Arab Spring in an exhibit called The Awakening of the Middle East.
Coming from South America are galleries from Chile and Argentina presenting a show called Latin American Masters and Emerging Artists. From Korea, Soo Jung Hyun's curated show and exhibition, Searching for a Cow in the Forest, is part of the Korean Pavilion presenting works by Lee Yong Baek, Lim Dong-Lak and Sung Hee Cho.
"Contemporary Korean art is a hot commodity right now," says Lester, pointing to Christie's auction house, which has developed a specialty auction for Korean art that reflects its unique style of modernism – a true East-meets-West.
From New York's (Art) Amalgamated gallery come artists Ross Bleckner, Vadim Zakharov, a Russian conceptual artist, and Belgian artist Serge Strosberg, with his new paintings depicting New York's financial crisis.
The "Gold Series," is an experimental body of work re-contextualizing key socio-political events such as the world-wide recession. Strosberg portrays these excesses with detail and satire and compels viewers to reflect on the omnipresence of materialism and power in contemporary society.
"I look at the world and its issues, many painful, while bathing the scenes in an ethereal light of gold," says Strosberg. "As human nature vacillates between light and dark, the beautiful and the base, so this series deals with the duality of the human condition."
New this year is ArtSynergy, a group created by local artists Freddy Hennevelt, Craig McInnis and Rolando Chang Barrero of the Boynton Beach Arts District (BBAD) to expand the scope of the fair out to local arts districts.
Thanks to support from the Cultural Council of Palm Beach County, ArtSynergy incorporates art walks and open houses in six different districts.
In Boynton Beach, BBAD hosts ART al'FRESCO, a night of art, music by the South Florida Symphony, experimental dance and movement, live fashion by Fusion Fashion and Art, open studios and glassblowing demonstrations by Healther Gaker.
Other events include the Worth Avenue Gallery Walk, ArtX in historic Northwood Village, the South Dixie Antique Row Galleries Walk, and LULA's Art POP in LakeWorth.
"Our goal is to open a window on the significant number of art districts that are growing and expanding in the county and the significant number of young emerging artists working in their studios," Lester says.
As Barrero, who runs the ActivistArtistA Gallery at BBAD, likes to say about the addition of the art walks, "We're going from glitzy to gritty (at the Boynton Beach Arts District's warehouses on Industrial Avenue) and creating one unified art scene."
Despite the district being hard hit by recent flooding, Barrero hopes to host 1,000 people at the Art al Fresco opening night event Friday.
Other highlights of ArtPalmBeach include a lifetime achievement award to sculptor Albert Paley who will speak about his public sculptures during the lecture series Albert Paley on View.
Sculpture is a theme this year, with five 30-foot-high pieces – Giants in the City — installed along Okeechobee Boulevard.
World-renowned Polish sculptor Jerzy Kedziora's kinetic balancing sculptures will be on display along with Romanian-born artist Adela Andea's bioluminescent kinetic-light sculpture made from consumer electronics and mass-produced objects, which will be installed in the lobby of the convention center.
The International Sculpture Center presents a panel discussion, "Kinetic Sculptures – Art in Motion," with Debby Coles-Dobay, public art manager for the city of Boynton Beach and kinetic artists Rein Triefeldt and Ralfonso Gshwend, president of the Kinetic Art Organization (KAO).
Ralfonso, who goes by his first name, believes sculpture and contemporary art are moving from a static, passive form to a more active, dynamic and interactive state.
"Sculptural public art is changing from the long held static, form-focused style to a dynamically developing intersection of technology, art and communication, where the art changes, interacts, and communicates with its viewers," he says.
Other lectures include a panel discussion on "Public Sculpture in Art and Culture," presented by the Florida International University Frost Museum and Sculpture Park and "ArtPalmBeach Presents Baby Jane," in conjunction with the Norton Museum exhibition,  To Jane: Love, Andy, a look at Jane Holzer, who is considered artist Andy Warhol's first superstar. Holzer, a Palm Beach native, will be interviewed by art historian and artist Bruce Helander.
***