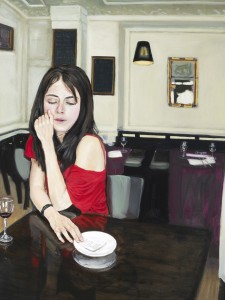 Even if you can't spend April in Paris, you can experience the pulse of Paris at a new exhibition "The Sins of Paris" from April 13 through June, featuring paintings by Serge Strosberg at The Lionheart Gallery in Scotts Corners, Pound Ridge, NY. A New York artist born in Antwerp, Belgium, Strosberg trained in Paris at the Academie Julian and L'Ecole des Beaux-Arts.Inspired by "The Seven Deadly Sins", a painting by German Expressionist Otto Dix, Strosberg takes a subtle approach imbued with wit. He says that while the paintings were done in Paris with the French actress Clemence Verniau as his model, his theme – an attractive young 25 year old actress who comes to the big city and wants to be a star – could just as easily portray the life of an aspiring actress in New York or Los Angeles. They all experience the various emotions: Greed, Lust, Sloth, Jealousy, Gluttony, Wrath and Vanity. Strosberg will greet visitors at his Lionheart Gallery opening on Saturday, April 13 from 4 to 7 p.m..
Describing himself as a contemporary expressionist/realist, Strosberg's goal is to penetrate beyond the glamorous façade to capture the soul of his subjects, who often feel insecure, lonely, frustrated, envious of the competition, and angry when pursued by preying producers.
He manages to portray their quirkiness with both empathy and wit. It's been said, "Strosberg is like Diane Arbus in Reverse." Instead of offering a glimpse into the world of the marginalized and scorned, most of Strosberg's subjects are society's most glorified. They appear to inspire envy but Strosberg says, "The point is that even the most enviable seem to have a sad secret." His beautifully rendered paintings are made with egg tempera and oil. Using these to paint the t the human figure, he creates the bright light and strong color contrasts seen in centuries old church icons.
Strosberg first came to Paris as a young boy when his father, a famous scientist was invited to work at the Pasteur Institute there. He later lived in the USA and graduated from Grinnell College in Iowa where he studied Abstract Expressionism and was encouraged to pursue a career as an artist. He returned to Paris to study art and also took photography courses with Peter Knapp, an artistic director of Elle magazine. Strosberg has always been fascinated with the world of fashion and his work often reflects elements of photography.
Since 2008, Strosberg has lived in Soho, NY, where his loft overlooks several of Broadway's fashionable boutiques. Intrigued by the store window displays, he notes that today's live fashionistas look so much like the mannequins that it's hard to tell them apart – real people are becoming more fake and the mannequins are becoming more real – they all aspire to the same ideals of perfection. His paintings create an edgy and provocative portrayal of our times, combining fashion and fantasy.
Over the years Strosberg's artistic career has brought many unique opportunities ranging from artist-in residence programs at the Himalayas Art Museum in Shanghai, China and portrait commissions in London as well solo exhibitions in Palm Beach, Florida and the illustrating and writing of several books including "Kingdom of Dragons" which explains Darwinism for children.
The Lionheart Gallery is open Wednesday through Saturday, 11 a.m. to 5 p.m., and Sundays from 12 to 4 p.m at 27 Westchester Ave., Pound Ridge. (914)-754-8689 or www.thelionheart.gallery.com
– See more at: http://stacyknows.com/2013/sins-paris/#sthash.xhfDgVhk.dpuf