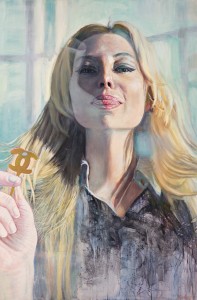 Serge Strosberg – The Painterly Alchemist
by Faye Ran
Born in Antwerp, Belgium, Serge Strosberg's MD and PhD-in-chemistry mother and noted Biochemist Professor-at-the-Pasteur-Institute father soon discovered that they had a drawing prodigy on their hands. They delighted in his skills and sought to develop and encourage young Serge in that pursuit. Strosberg, in spite of his talents or perhaps because of them, decided to receive his BS in chemistry before further pursuing formal art education in Paris at the Academie Julian and the Ecole des Beaux Arts. Even without knowing this, one can discern Strosberg's intense technical mastery and polyvalent mixing of Pop, Photorealism, and humanistic Expressionism. His paintings range from the playful, humorous and satiric to the meditative and melancholy.
They are inbued with philosophical and existential ruminations on the nature of identity, sexuality, culture, commerce, authenticity and ephemerality. Strosberg declares that his last six years of living in SoHo, New York City, "surrounded by fashion storefronts, lights, reflections, music, vibrations, marching crowds, police sirens and the constant flow of energy" have also entered into his painting.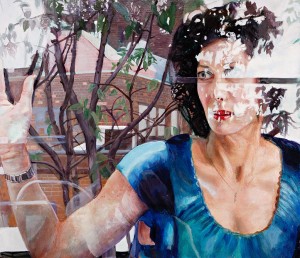 What is a surprising revelation in looking at these disparate Strosberg images is the underlying thematic approach to representing the internal and the external. The vitrines (or 'panes'– indeed a word play) through which life is layered and experienced become a situating metaphor. Strosberg's technical mastery allows the viewer to see into and through space creating a sui generis approach to the objective and subjective nature of presence and portraiture. The alluring, sexually playful and seductive modelesque woman in front of a window with a window behind her in Strosberg's "I Have a Dream" teases the viewer as she holds up a childlike lollipop, her tongue poised, ready to kiss or mock the viewer who cannot touch her. The carefree swirls of her hair are offset by the unexpected complexity and tumultuous lines and colors of the shirt which flattens and obscures her breasts. Strosberg's more lyrical and poignant painting, "In Vivo in Vitro I" shows a mature woman, whose flesh and face though still beautiful are beginning to fade. Her face is obscured by light passing across the window she is looking into. There is a sense of surprise and yearning on her face, her lips pursed on the verge perhaps of speaking or of restraining herself. We do not know if she is tapping to be let in or if she has found herself locked out. Strosberg declares that a viewer "needs to spend time viewing a painting to understand it; you need to be present to live in it and feel it." The more one looks at "In Vivo in Vitro I" the more one feels a great variety of emotions, and enters the spirit of philosophic questioning present in all Strosberg's work.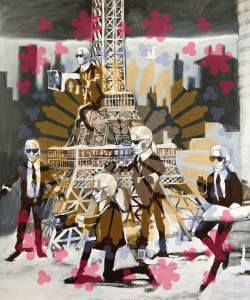 The third painting, "Medium Yellow Karl" is Strosberg's most comical and satiric with miniature Karl Lagerfelds, the internationally acclaimed German high fashion designer and head designer and creative director of the great Parisian fashion house, Chanel, as well as his own fashion label, popping up everywhere like an aristocratic high priest dressed in somber and authoritarian black and white, sporting a royalist white head of hair/headdress and wearing his signature glam sunglasses. Here, fashion is sacred and ubiquitous seen through Strosberg's colorful window/iris pattern which combines pop and religious stain glass iconography, at once playful, comic, intense and visceral. Strosberg cleverly asks "Is seeing believing?" and waits for us to answer.